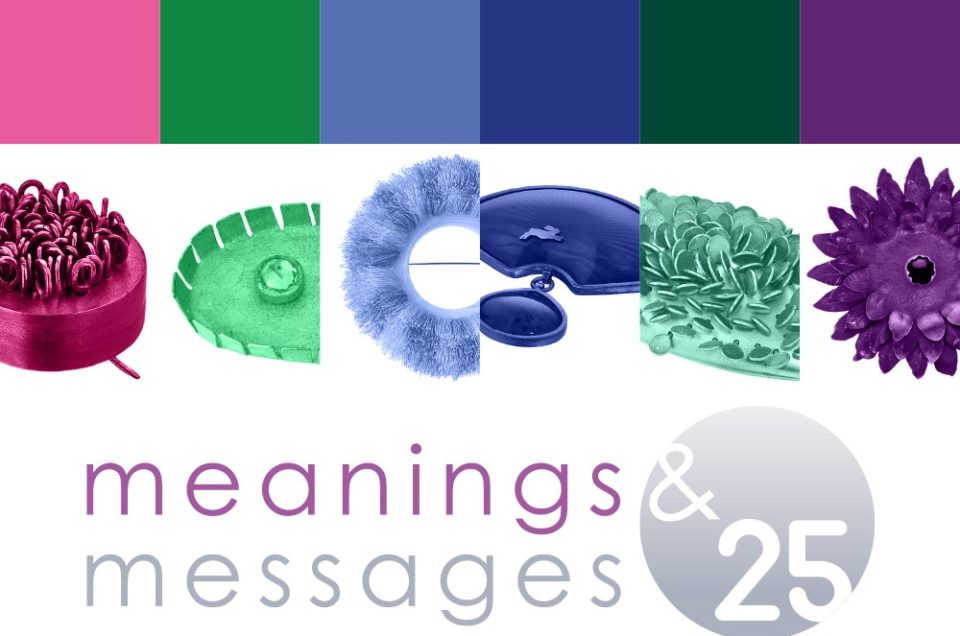 Meanings & Messages touring exhibition
Meanings & Messages, the major touring exhibition of Association for contemporary jewellery, celebrating its 25th anniversary. Showcasing 60 brooches from 60 currently selected international members including UK, Austria, Australia, Bosnia and Hercegovina, Hungary, Greece, Taiwan, USA and US Virgin Islands.
Focusing on brooches, as a ideal jewellery archetype to communicate meanings and messages. It us curated into six distinct themes. Social justice and societal change, Supernature, Tributes and personal narratives, Our beautiful planet, Coronavirus (Covid-19) and Love, Hope & Faith.
The exhibition encourages the visitors to give their own, uninfluenced response to the works. The audience has to guess the meaning & the message of the jewellery pieces.
Exhibiting Artists: Allison Macleod / Anna Borcsok / Anne Earls Boylan / Anne Morgan / Anne Walker / Anthony Wong / Asimi – Anna Butcher / Caiyang Yin / Caroline Finlay / Catherine Hartley / Catherine Marche / Chien Yu Liu / Christine Johnson / Claire Finlay / Claire Underwood / Dauvit Alexander / Deborah Beck / Drew Markou / Elird / Elizabeth Shaw / Emily Kidson / Emma McGilchrist / Hendrike Barz-Meltzer / Islay Spalding / Jane Moore / Jane Sedgwick / Janine Partington / Jessica Briggs / Jo McAllister / Joanne Haywood / Joel Matthew Smyth / Kate Bajic / Kim Nogueira / Kristy Lewis / Liana Pattihis / Linda Connelly / Lorraine Hitt – Elsiem Jewellery / Lynne Speake / Mandy Nash / Mark Mcleish / Michelle Fernandez / Nina Mannerkoski / Paul Wells / Penelope Burnett / Rachael Colley / Rachel Hearne / Rebecca Ilett / Rebecca Wilson / Sarah Jane Wilmott / Sishi Wang / Sophie Lowe / Sophie Martin-Glinel / Stephanie Johnson / Terry Hunt / Tina MacLeod / Tina Sanderson / Toby Cotterill / Vanessa Sharp / Viktoria Münzker / Yuka Jourdain
Opening times: 30th April to 29th May –  St George's Arts Centre in Gravesend, Kent
Next stations:
Exeter University – Conference Pop Up exhibition: 1-3 July 2022
Vittoria Street Gallery – Birmingham School of Jewellery : 19 September- 28 October 2022
Mission Gallery in partnership with Swansea College of Art UWTSD : 16 November – 2 December 2022
Goldsmiths' Centre: 9 January – 24 February 2023
New Brewery Arts: 4 April – 18 June 2023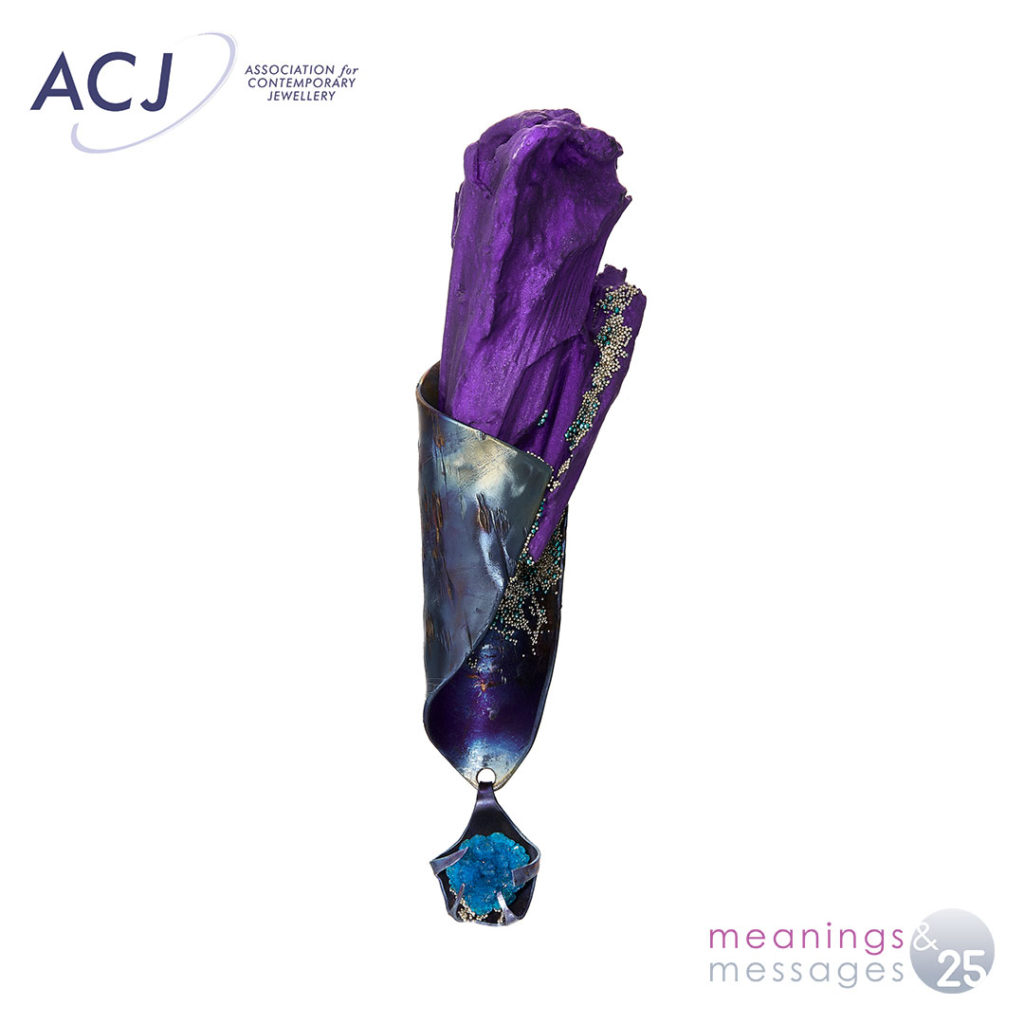 Chromophore is the part of a molecule, that is responsible for its colour. It gives us the chance to see the world in all colour shades. Surrounding ourselves with colours makes us think positive. The need for harmony and brighter future has become more important than ever. I use anodized titanium and rare mineral cavansite for its special colour effect impression.
Brooch Chromophora is made of anodized titanium, mangrove wood, cavansite, micro-granules, silver 925, steel needle and lacquer.
The opulence of color combinations, stories and myths, paired with material characteristic of titanium, minerals and wood result in fantasy creations as a representation of imaginary fabulous beings.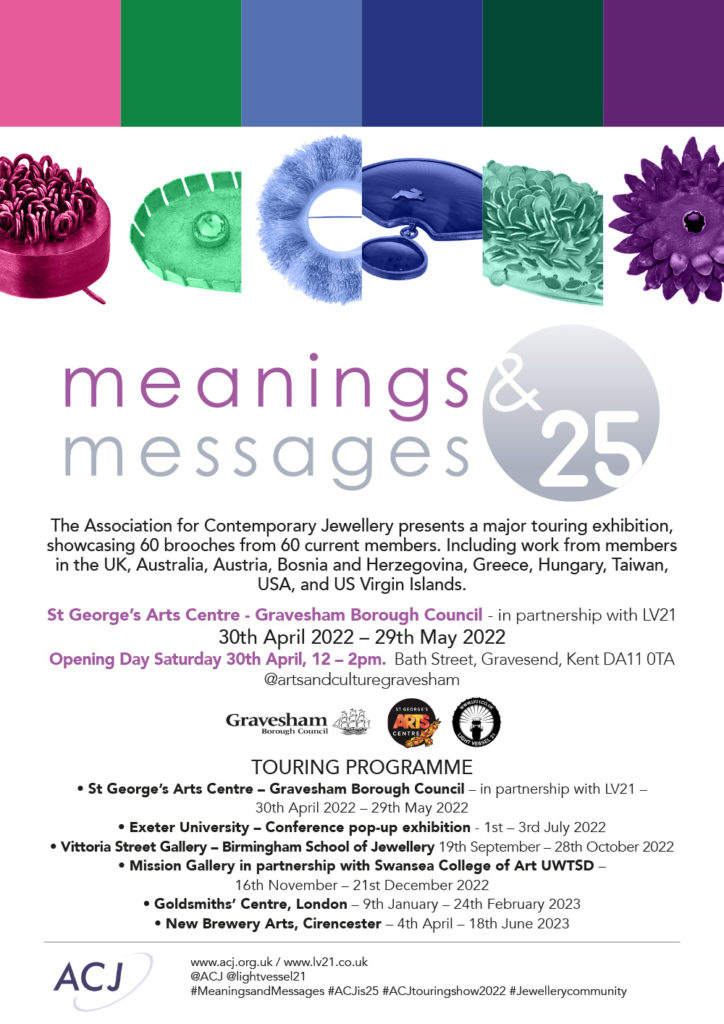 ---
You might also like