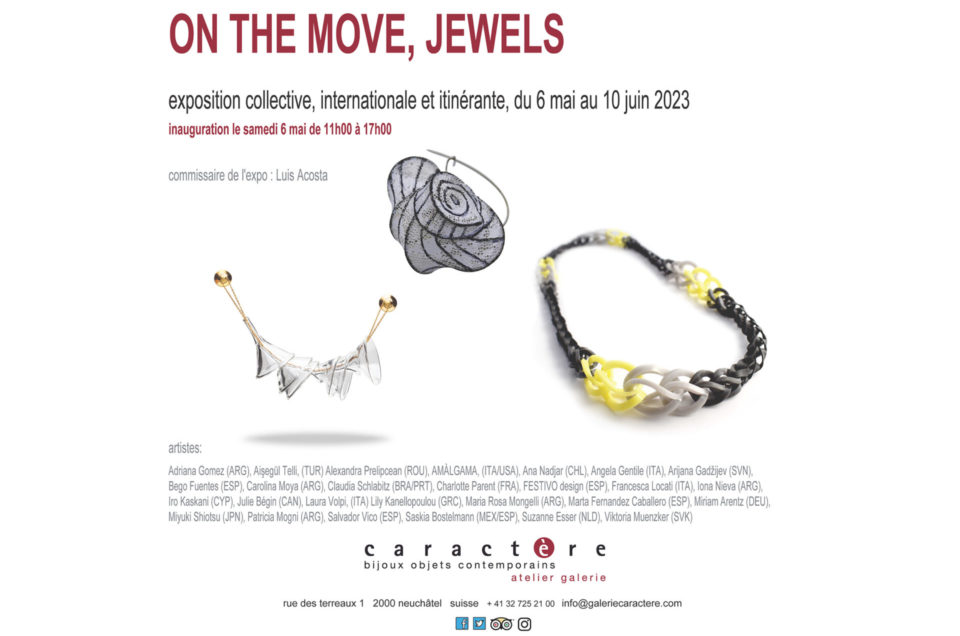 On the move, Jewels @ Galerie Caractére / Neuchatel, Suisse
International touring exhibition On the move, Jewels has moved to Galerie Caractére in Neuchatel, Switzerland. The theme of the exhibition is the movement that our activity has had and continues to have despite the pandemic. Since the exhibition presentations in Enschede/Netherlands and Madrid/Spain, the travelling continues through Europe. Galerie Caractére presents the creations of about 80 swiss and international jewellery artists.
The opening will start on 6th May 2023 at 11.00 to 17.00 in Rue des Terreaux 1, 2000 Neuchatel, Switzerland. The exhibition will last until 10th June 2023.
Exhibiting artists @ On the move jewels Neuchatel:
Adriana Gomez – ARG, Ai˛segül Telli – TUR, Alexandra Prelipcean – ROU, AMÀLGAMA – ITA / USA, Ana Nadjar – CHL, Angela Gentile – ITA, Arijana Gadžijev – SVN, Bego Fuentes – ESP, Carolina Moya – ARG
Claudia Schlabitz – BRA / PRT, Charlotte Parent – FRA, FESTIVO design – ESP, Francesca Locati – ITA
Iona Nieva – ARG, Iro Kaskani – CYP, Julie Bégin – CAN, Laura Volpi – ITA, Lily Kanellopoulou – GRC
Maria Rosa Mongelli – ARG, Marta Fernandez Caballero – ESP, Miriam Arentz – DEU, Miyuki Shiotsu – JPN
Patricia Mogni – ARG, Salvador Vico – ESP, Saskia Bostelmann – MEX / ESP, Suzanne Esser – NLD
Viktoria Muenzker – SVK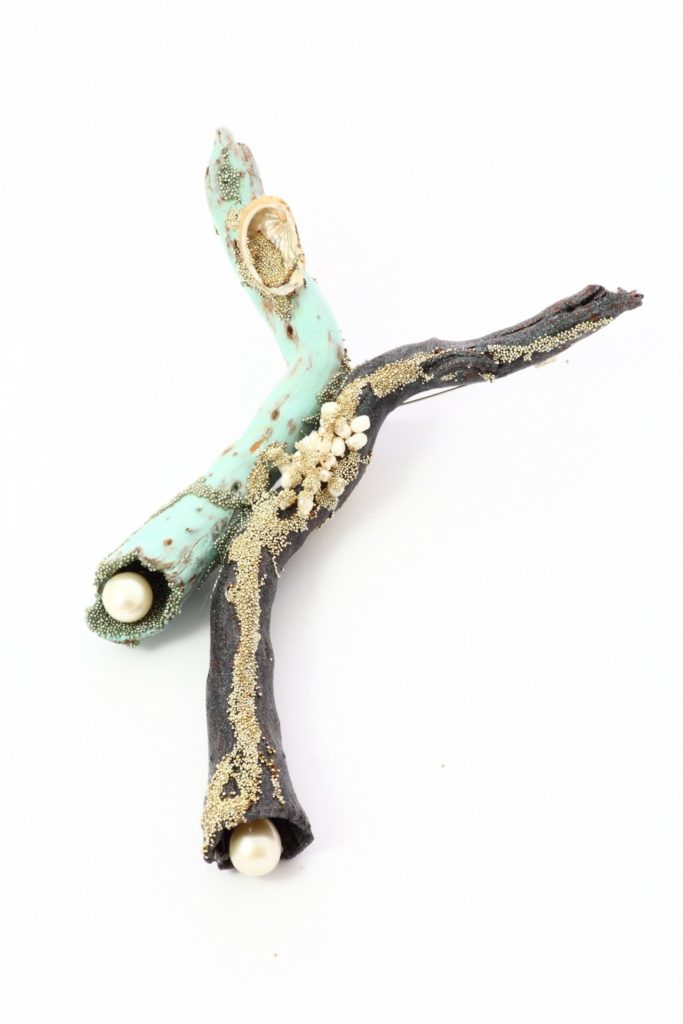 The opulence of color combinations, paired with materials like titanium and wood result in fantasy creations which approach real sea animals in different ways. Contrast and contradiction becomes sharper by using divergent materials side by side. For me it is important to feel the material, its smooth or rough surface, its natural softness or its temperature.
---
You might also like